Custom Art

"What started this line was the eye-catching detail I admire in miniature mechanical pocket watches, cap guns and knifes. I have taken my passion for collecting, over 20 yrs, and make antique miniature functional watch fobs into jewelry."

Mario Ceja
Vintage Cap Gun Charm Necklace
This piece has the original Pinfire Gun that I found at a Flea Market and started wearing as jewelry. It dates back to the 20s-30s were quality items like this were made here in the USA. This Fisher Firesure Pinfire gun is one of most rare types and highly collectable. Each piece of jewelry I design is antique & unique. Directly from my private collection of 20yrs. These are not charms or toys.

Buy Now via Paypal for $625


The Real McCoy - Vintage 17 Jewels Pocket Watch & 1.5" Miniature Cap Gun Necklace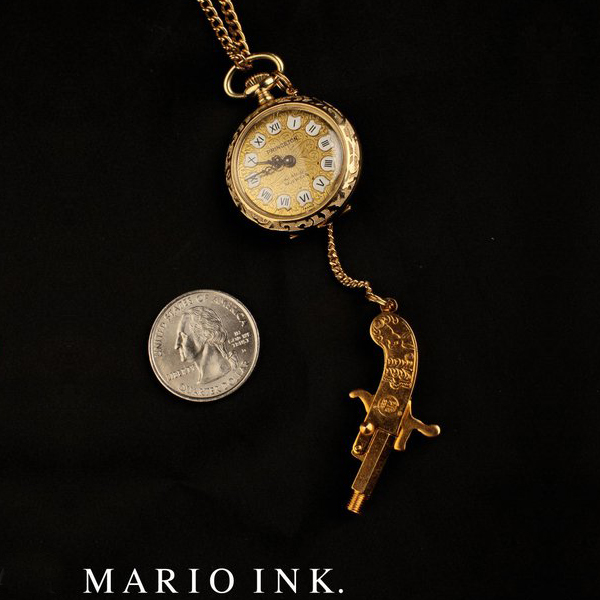 This Swiss made mechanical watch has gorgeous details, gold filled, engraved scroll and flower designs, 17 jewel set. Modern Austrian pinfire gun is 24k plated to match. I found the mini pocket watch in a small collection with a few others. The Pinfire Gun I picked up on an online auction. This combination is my first design, it has been very successful. I use only real authentic miniatures in my pieces. These are not charms or toys.

Buy Now via Paypal for $450


Hair of the Dog - Black Rosary with Skull & Miniature Cap Gun Necklace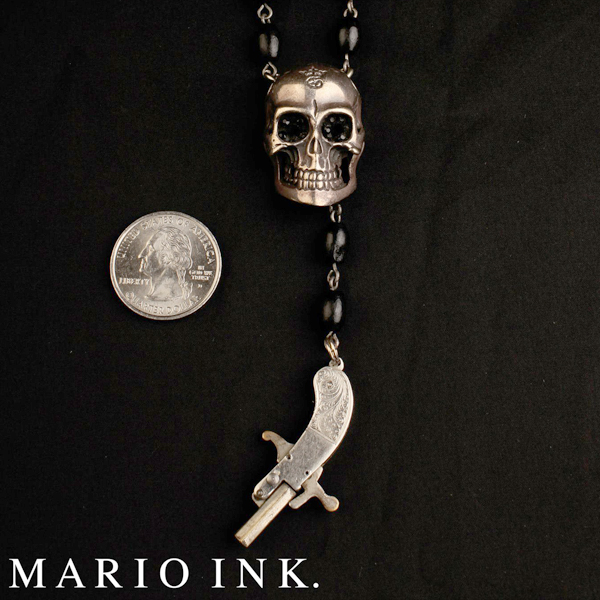 I have always admired religious art. I wanted to design something that looked like a rosary. So I started with a black beaded rosary. Modern Sterling silver skull and mounted black sworosik crystals in the eyes. then I used a late and rare 1920's Old german pinfire gun, engraved scroll design in the hand grips. One of my many finds from the antique flea markets I visit from a dealer who specializes in pocket watches. These are not charms or toys.

Buy Now via Paypal for $475


Burn Powder - 1.5" Miniature Cap Gun & 2mm Caps Necklace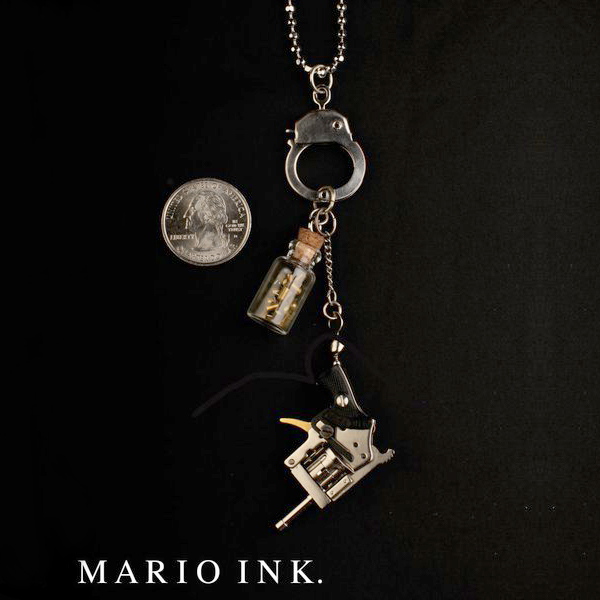 I found this modern pinfire revolver at an estate sale in a gun collection. I used a working locking mini hand cuff to hang this authentic 2mm pinfire gun ( made in Austria by a Gunsmith ), attaching a mini glass bottle filled with 2mm blank caps. you can actually load and fire this miniature gun, it has a revolving cylinder and authentic grips. Fun and very collectable the pieces are one of a kind. These are not charms or toys.

Buy Now via Paypal for $300


Chopper Squad - Multiple Weapon Charm Necklace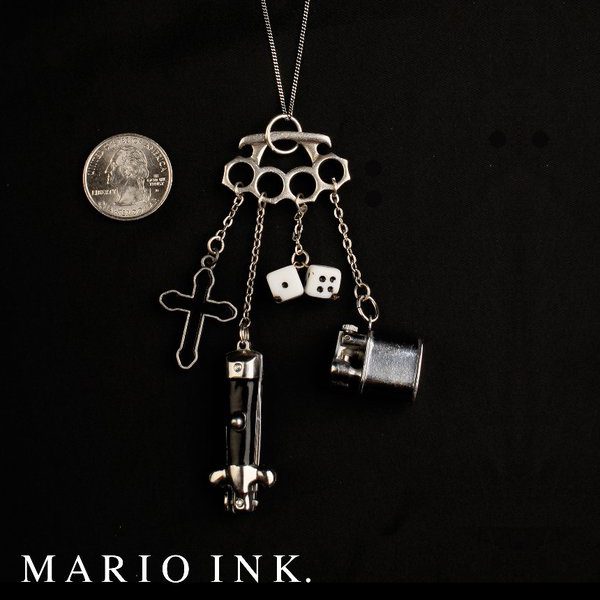 This piece I designed was to show off more than one piece at a time. it has has a funtioal mini lighter made in japan, working mini switch blade knife made in italy, miniature authentic dice, and a black ionized cross. Using a sterling silver brass knuckle pendant as a jump ring. This piece makes a bold statement, I envisioned the traditional ' Love thy Neighbor ' tattoo flash by Sailor Jerry into jewelry. These are not charms or toys.

Buy Now via Paypal for $400



Jewelry
"What started this line was the eye-catching detail I admire in miniature mechanical pocket watches, cap guns and knifes. I have taken my passion for collecting, over 20 yrs, and make antique miniature functional watch fobs into jewelry." - Mario Ceja.
Wearable Art
Combining my passions for art and Fashion, everyone can get custom designed, hand-painted style that is wearable, affordable, and unique. Shoes, Hats & Clothing
Fine Art
Mario Ink creates unique murals and decorative wall finishes for homeowners, business owners, interior designers, architects and builders. Whether you are looking to simply decorate a child's nursery or completely re-create your home or business, their staff of artists and designers can provide the wall finishes you desire. Murals & Canvas
Illustration & Licensed Art
Custom Cartoons and Comic Illustration by Mario Ink, Freelance Cartoonist for Hire. I can be hired to create brand new cartoons and comic illustrations especially for you. I will work under your direction to create exactly what you need for your book, advertising, presentation, publication, or special project.
Motorized Bikes
bike.The bicycles I build get 120+ miles to the gallon and go 30 miles per hour, legal to ride on the street with no special license, plate, or registration.The 2 cycle motor adds only 19lbs to the weight of the bike, smaller than a moped, 60LBS total weight and more compact for easy parking and commuting.All of the bikes pictured on this website have been personally hand built by.The bikes can be pedaled at anytime as a normal bike, more versatile than a moped.